The Best Atlanta Movers-
That's a Bold Statement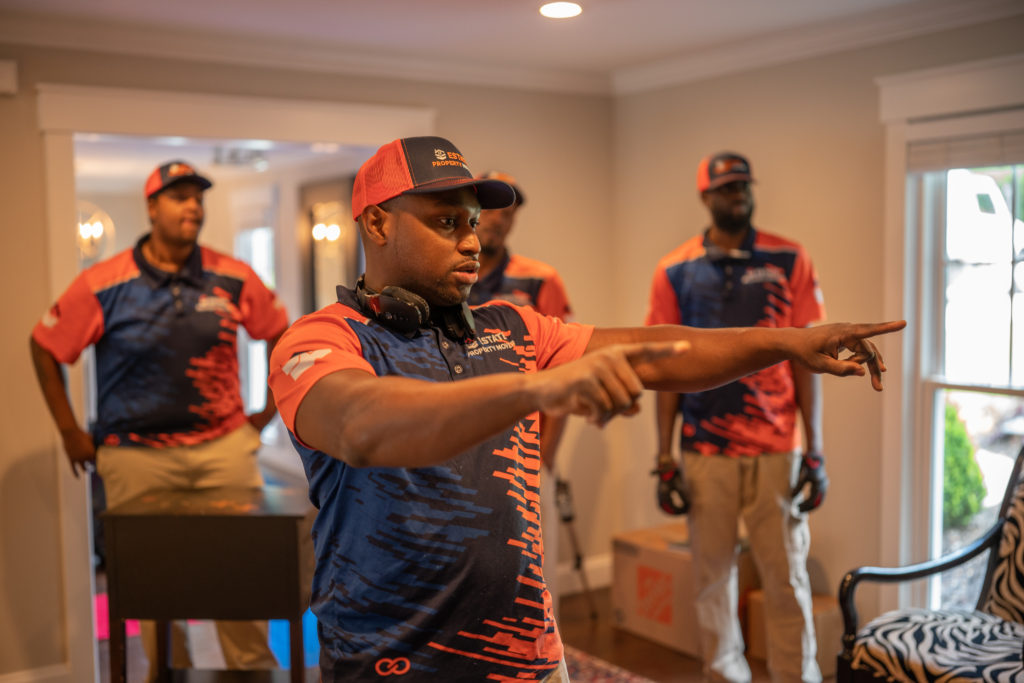 It is. And we stand by it.
Atlanta Estate Property Movers are the best movers in Atlanta. Our company treats every move like it's our first. And we treat every customer like they're our family.
Ask any of our former clients or check out our reviews and you'll see. We stand by our word.
What's It Take to Be the Best Atlanta Movers?
If you just Google "best Atlanta movers" you'll see that we're not the only company claiming that. Estate believes that actions speak louder than words. But if you haven't yet experienced a move with our moving company, here's why we can call ourselves the best movers in Atlanta:
Punctuality
From the first point of contact to the minute we pull out of the driveway at your new home, we're on a schedule. Punctuality is so much more than just showing up on time to load up the truck.
It's about responding to your call or request for an estimate in a timely manner.
It's about being on time for each appointment. Packing and loading in a timely manner. Then unloading and reassembling efficiently.
But mostly, it's about respecting our clients and their time.
Moving can be one of the most stressful situations that people can go through. Getting kids ready for a new school, switching utilities, maybe changing jobs. We know that making sure everything is on a tight schedule will give you one less thing to worry about.
Attention to Detail
Sometimes it's the little things that matter the most. Like getting your car worked on then finding those paper floor mats keeping the carpet clean.
Estate knows that moving your belongings is a lot more than just tossing some boxes in a truck. It's about paying attention to every aspect of the move and treating your home as though we're a guest instead of a mover.
Many Atlanta movers are more than capable of doing the job. But when they leave, the next phone call is for a cleaning crew. Or you find nicks in your drywall. Or scuffs on the wall. And all of these things need to be fixed before you can turn over your keys.
Our biggest goal as a moving company is to make less work for you. If we're leaving dirty footprints and Gatorade bottles everywhere, we're not doing our job. With Atlanta Estate Property Movers, that will never be the case.
The Right Moving Crew
No matter how great a moving company appears to be, how nice the secretary is, or how clean their moving truck is, the thing that matters the most is who's handling your belongings.
At Atlanta Estate Property Movers, we have a tight knit crew. Our guys are professional movers, not just temporary workers filling in part time.
When you hire us as your moving company, you're getting a group of movers that do this professionally for a living. It's not just a part time job, it's our career. We know how to handle fragile items. We have experience disassembling and reassembling furniture (and using ALL the screws). And Estate handles plenty of white glove moves if that's something you desire.
Just remember, like a chain, a moving company is only as strong as it's weakest link. And you don't want that weakest link dropping your television.
Excellent Customer Service
So many businesses seem to forget these days that they wouldn't exist without you. When you call a moving company on the phone, whether it's just to ask for rates, or because a major schedule change is needed, a warm voice on the end of the line can make all the difference.
I know we've mentioned this before, but moving can be stressful. We want to make it as easy as it possibly can be. Professional, knowledgeable, and friendly customer service is the foundation that makes that possible.
Our goal is to provide the right answers in order to help you make the right decisions about your move. We're here to help from the beginning to long after you've settled in.
A Great Attitude
Along with excellent customer service, an amazing attitude is what helps Estate stand out from other Atlanta movers. There's more to doing this job than just being cordial. A positive attitude can go a long way towards helping ease your stress.
All it takes is a quick look at our Facebook page and you'll see what we're talking about. There are movers in Atlanta that force a smile when they walk past you. Then there's us.
It's very obvious that we love our job and truly enjoy what we do. We've met some amazing people, gone to come cool places, and been in some immaculate homes.
But whether you have a ten bedroom mansion, or a cozy studio, you'll get the same treatment from Estate. You'll have a happy, friendly moving crew who does a perfect job and has fun while doing it. And more than likely, we'll have a few laughs along the way.
A Genuine Concern and Care for Our Customers
This is the biggest and most important factor in us claiming to be the best movers in Atlanta. And it begins and ends with empathy.
So many moving companies, along with other service providers, look at a job as just another invoice. What really sets us apart is actually caring about how our customers feel about the job we're doing.
Inviting someone into your home, handling your most prized possessions, and allowing them to pack them into a truck and drive down the road is a big deal. There are a lot of emotions involved.
Atlanta Estate Property Movers understands and respects how important this process is to you and your family. And we want to do everything in our power to make it the best experience. We're the best Atlanta movers because we understand how extremely important all of this is and we promise to do our absolute best to make it perfect.