Full-Service Mover – White Glove Service In Atlanta, Marietta, Sandy Springs, Brookhaven, Buckhead, Smyrna, GA, & Throughout Georgia, Texas, Florida, & the Surrounding Areas
When you're ready for full service for your move in Atlanta, look to Atlanta's best moving company.
Our moving services can be as extensive as you want it to be.
We'll start with a consultation to work out the details of your white glove moving service in Atlanta, GA, Houston, TX, or Miami, FL. This includes the planning, estimating, and scheduling. We know you'll feel more confident with having this part of your move planned and taken care of by a professional white glove moving company.
We bring all the moving boxes, materials, and supplies. Your packing materials may include wardrobe boxes, moving blankets, packaging materials, and anything else we need to safely move your belongings.
We carefully wrap and package your belongings. Preparing your items might include disassembling any furniture, packaging your dishes, marking boxes, and more.
We load and transport your belongings. You tell us where you want them to go and when. If there is a delay between when we pack up your house and deliver to your new location, we can arrange for the short-term or long-term storage you need.
We unload and unwrap after transportation. With your guidance, we can take care of all the unpacking in your new location. You will be overloaded with settling in, so let us help you with the essential unpacking in various rooms.
Disposal of packing materials. We dispose of all packing materials used during transport. No more filling your garbage can, breaking down boxes, or having to take care of moving materials.
Professional Full-Service Movers in Atlanta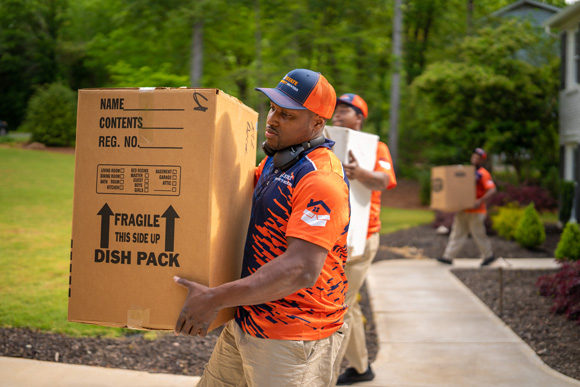 When you hire Estate Property Movers as a full-service moving company, you are getting almost 20 years of experience in the best care of your belongings. Here are the advantages of using us for your next full-service move for interstate or local in Atlanta, Marietta, Sandy Springs, Brookhaven, Buckhead, Smyrna, GA, and surrounding areas.
Experienced team to professionally pack your belongings quickly. You point us to the room, and we take care of it for you. Ever notice how long it takes you to pack up boxes? That's because you end up getting distracted with your own belongings. We will quickly, yet carefully, pack everything, saving you time.
Professional materials. No doubt you don't have the blankets, correct box sizes, hand tools, carts, straps, and more that we have. These not only make a move quicker but also take care of your possessions easier.
Get you settled quickly. You might be looking forward to moving, but you also might be dreading it. When you get to your new home, you have a lot to do—connecting the utilities, buying groceries, and opening a gazillion boxes trying to find just one thing. What if all the boxes were unloaded, opened, and unpacked within one day? You could move on to taking care of what you need to.