Local Movers, Cheap Movers, Storage Moving, and Long-Distance Movers in Katy, TX
From residential moves to commercial office moves, Estate Property Movers is ready to help you move in Katy, TX! Near or far, we'll ensure that your move is handled with the utmost care and at an affordable price.
With all of the different office buildings in Katy, it is almost inevitable that a local mover will be needed by the different financial businesses in the area. Estate Property Movers is your local mover that is also a cheap mover because we have the moving process down to a science. When we go through your area to perform an estimate, we will really address everything, from all of the different furniture you have, along with sizes, to plants, pictures, and more. You might be moving just a few floors or a few blocks away, but Estate Property Movers as your local mover will make the move much less of a headache.
Long-Distance Movers in Katy, TX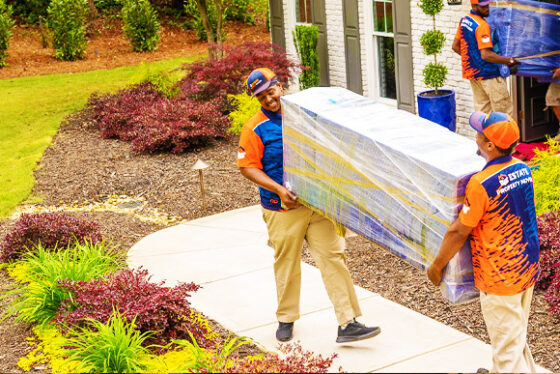 Your long-distance mover will likely have a bit more to handle with the logistics of your long-distance move because there are often three different entities involved with your move.
First is the loader, which is usually your local mover that loads up all of your stuff.
Then there is the transporter, who takes your possessions to the new city. This party has issues of their own to factor in, such as having the space on the semi-truck for all of your possessions, as well as the right equipment to transport a lot of home goods.
Once that happens and all of your household goods have been delivered to the new city, there is the unloader party that is likely another local mover in that area that will deliver all of your possessions to your new location. This is true of a long-distance mover or even an interstate mover.
At Estate Property Movers, we handle it all! We ensure that every part of your long-distance move in or out of Katy, TX, is handled with a 'white glove' service approach. Contact us today to book your next move!
Storage Moving in Katy, Texas
You might be moving, but your final location isn't quite ready yet. When you talk with a moving company you will need to ask them about storing your items for a period of time until your new location is ready to receive them. That's where Estate Property Movers can help! We will essentially turn into storage moving since we will be storing your items for a set period of time. Estate Property Movers is ready to be your moving company in Katy, TX.
In the early 1800s, Katy, TX, was known as "Cane Island", named for the creek that runs through the area, a branch of Buffalo Bayou. First formally settled in the mid-1890s, Katy was a railroad town along the Missouri–Kansas–Texas (MKT) Railroad which ran parallel to U.S. Route 90 (today Interstate 10) into downtown Houston. By the early 1900s, many families had come by train and wagon to establish Katy. Cotton and peanuts and corn were the first successful crops, but rice soon became the primary commodity crop.
If you are interested in moving in-to or out-of Katy, TX, contact Estate Property Movers today for a quote.