From the relocation of employees to office moves and more, having the right commercial mover in Arlington, Carrollton, Dallas, Fort Worth, Plano, or the surrounding areas can make all the difference in your business. The professionals from Estate Property Movers can help your business have as few disruptions to their operations as possible and can make the relocation of key employees go smoothly. Contact them today to learn more about their services and get an estimate for your needs.
Differences From Residential Moves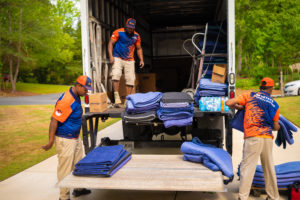 Moving a business might look to be similar to moving a home, but there are important details that make commercial moving a bit more challenging. When you are moving a home, while speed is certainly a factor, it isn't quite as important as a business that needs to reopen in two days, fully set up and ready to help customers. Not only that, but some business moves involve heavy machinery, sometimes large pieces of furniture, as well as a load of different electronics that could cost thousands of dollars or more. Sometimes more specialized loading and unloading equipment is also required when moving a business, and skilled movers are in need for these less common moves.
Business owners can help themselves by having their employees help with getting things ready for the move. In an office setting, each employee can box up their office items so that the movers only need to load them on the moving truck. For other businesses, the employees can pull together all of the different items that they use and organize them as well as box them up. All of this will help to ensure that once the move is done, the business can get things back up and running quickly so that they lose as little time as possible.
Corporate Moves Important
Sometimes as a way to attract and/or retain key people at your business you decide to have the business pay for their relocation. Estate Property Movers is ready to help with this need, whether that's across town or across the country. They will treat your employee as one of our family members taking care of their property and personal belongings with care and respect. When you have need of a commercial mover in Arlington, Carrollton, Dallas, Fort Worth, Plano, or the surrounding areas, give a call to Estate Property Movers.