4 Tips on Choosing the Most Efficient Commercial Movers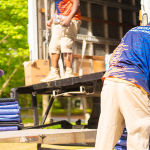 Estate Property Movers, LLC can help you with commercial mover in Atlanta, Acworth, Johns Creek, Sandy Springs, Alpharetta, McDonough. When it comes to choosing commercial movers for relocations, there are several important traits to consider. Here are four traits that characterize good commercial movers:
Experience and Expertise: Good commercial movers should have a wealth of experience and expertise in handling commercial relocations. They should be familiar with the unique challenges that come with moving businesses, such as handling delicate equipment, packing and unpacking office furniture, and coordinating logistics. Look for movers who have a proven track record of successful commercial moves and positive customer reviews.

Reliability and Punctuality: Time is of the essence during a commercial move, as any delays can disrupt business operations and result in financial losses. Good commercial movers should be reliable and punctual, ensuring that they arrive on time and complete the move within the agreed-upon schedule. They should have a well-organized approach to logistics and be able to provide accurate timelines for each phase of the move.

Attention to Detail: Commercial moves often involve valuable equipment, sensitive documents, and other important assets. Good commercial movers should demonstrate a high level of attention to detail to ensure that nothing is lost or damaged during the move. They should have proper packing techniques, labeling systems, and inventory management practices to track all items and ensure they are transported safely and securely.

Excellent Customer Service: A good commercial moving company should prioritize customer satisfaction and provide exceptional customer service throughout the entire relocation process. This includes clear and prompt communication, responsiveness to inquiries and concerns, and a willingness to accommodate specific needs or special requests. They should have a professional and friendly demeanor when dealing with clients, making the moving experience as smooth and stress-free as possible.
Remember to thoroughly research and compare different commercial moving companies to find the one that best aligns with your specific requirements and preferences. Obtaining multiple quotes, checking references, and reading online reviews can help you make an informed decision. Without any hesitation, give us a call.