Your business has been going well, and now you need to move to a larger location in Austin, Georgetown, McKinney, Pflugerville, Round Rock, San Margos, or the surrounding areas. This isn't an easy task, that's why you should call in the experts from Estate Property Movers to help move your business. You're looking to continue your business operations with as little disruption as possible, and they take pride in keeping a strict timeline so that your company will be able to resume business as usual.
5 Step Process For Business Moves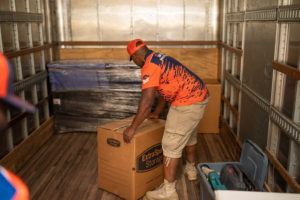 Estate Property Movers have the experience of helping companies transition as easily as possible from one location to another. This is done by first doing careful planning. The more you plan, the less disruption you will have. From the day of the week to the time of day for your moving, when you plan for the move, your business disruptions will be minimized. You should also plan for where things will be going in the new space, again to help limit disruptions.
They have respect for your equipment. No matter if you have exercise bikes, office computers, or other items, Estate Property Movers knows that they are essential to your business and will treat them as such. They will also look for ways to help make your move as cost-effective as possible. It might be worth having each of your employees box up their offices. Or perhaps you want to make the move as easy as possible on your staff, so having Estate Property Movers do everything is what you want. And of course, your business has sensitive information that is confidential. They will work with you to maintain that confidentiality so you don't have to worry about losing important files and other things.
Corporate Moves Important
Sometimes as a way to attract and/or retain key people at your business you decide to have the business pay for their relocation. Estate Property Movers can help with this need, whether that's across town or across the country. They will treat your employee as one of our family members taking care of their property and personal belongings with care and respect. When you have need of a commercial mover in Austin, Georgetown, McKinney, Pflugerville, Round Rock, San Margos, or the surrounding areas, give a call to Estate Property Movers.