Local Movers in Atlanta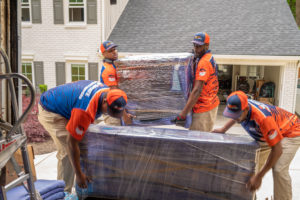 If you think that professional movers may be expensive, then you're not looking for the right affordable local movers in Atlanta. Give us a call, and not only will we give you an accurate estimate of the cost, but we can also give you our assurance that we are the best of the local movers in Atlanta.
It doesn't matter how far you're moving – down the street or across the country, you're still going to go through the pain of packing everything up, moving it, and then unpacking. Probably the most challenging part is moving everything. Even if you get friends or family that say they're going to help you, they may have something come up or leave early, leaving you in a tight spot. And you're probably on a deadline of when everything must be out.
Getting good moving services isn't hard or has to be expensive. We know that we need to keep our promises, and part of this is moving your belonging as if they were our own – handling with care and ensuring efficient and safe transitions. We've been working with Atlanta residents and helping them with local moves for almost 20 years. We have our system down to get your items from one place to another as affordable as possible.
Local Mover in Atlanta for a White-Glove Moving Service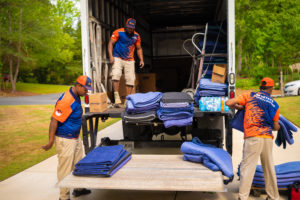 Don't have time to pack everything? Overwhelmed and need help? This is what our white glove moving service in Atlanta is all about. We take care of everything for you, so you don't have to worry about anything.
Materials. We supply the moving boxes, packing materials, wardrobe boxes, blankets, and everything else you need. No more running to the store for more tape or using your own linens to protect your items.
Packing. We wrap and pack your items, including dishes, disassembling furniture, marking all the boxes, and more.
Load and transporting. Give us an address, and we'll load everything and take it over. If there is a delay from one location to another, we can help find you the proper storage solutions, short-term or long-term.
Unload and unwrap. With your guidance, we'll place everything in the right room and start unpacking. You'll be surprised how much time this will save as you prepare to settle in.
Material disposal. No more advertising to get rid of boxes, filling your trash with packing supplies, or even breaking down the boxes. We take care of all of that for you.
White glove moving service is the way to go to make moving more manageable and less of a hassle than ever before. Call Estate Property Movers today to get started.
Affordable Local Movers in Atlanta
Atlanta has so much to offer, it's no surprise so many people want to move here. The different neighborhoods, including Buckhead and Brookhaven, big-name sports, and southern hospitality make Atlanta the best "big town with a small-town feel." While you may be just researching companies to find a cheap mover in Atlanta, there is so much to consider in order to protect your property during a move. While Estate Property Movers does offer affordable moving services, it's the quality and reputation we recommend you search for – both of which Estate Property Movers of Atlanta excels in. Just check out our Google reviews, then give us a call to book your move in and around Atlanta, GA.