You might think that hiring a local mover to help you move in Aldine, Houston, Katy, Pearland, Spring, Sugar Land, or the surrounding areas is just wasting money. But you would be surprised at how affordable and beneficial it is to have professional movers like Estate Property Movers handle your local move. You don't have to beg your friends to move you and worry that they'll bail out. Call in the expert local mover, Estate Property Movers, and make things easy for yourself and your friends. They can hang out with you after the move is done.
Why Hire a Local Mover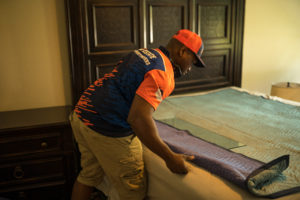 A local mover will be able to come to your current location and provide a thorough estimate for all of your personal property by laying eyes on all of it. This isn't always the case with a national mover where they will give you an estimate over the phone, but that's only if you remember to tell them everything and ask the right questions. A local mover will also be able to readily tell if there will be an additional charge because you live in or are moving to a place that is several floors up, such as a highrise apartment building. Knowing about these additional expenses upfront is important because you might be able to mitigate them yourself with some creativity.
Knowing Your Contracts
There are three main kinds of contracts that you may encounter as you search for your local mover. The first kind is a non-binding estimate moving contract. This means that you will not pay more than 10% over the original estimate. Sometimes unexpected issues will arise, and that may mean you have a slightly larger final bill from the estimate. The second kind is the non-binding to exceed estimate, which means you will not have to pay any more than the estimate; this is the maximum that you will need to pay. The final kind of contract is the binding estimate. This is meant to be a guaranteed price for the move, including all extras and services. It is always important that you understand the contract with your local mover before you sign it.
Having more than 15 years of experience in the industry means that Estate Property Movers is doing many things right when it comes to their customers. Don't just settle for any moving company, choose one that will treat the property in your Aldine, Houston, Katy, Pearland, Spring, Sugar Land, and surrounding area home like their own. Call them today to learn more and have them provide you with an estimate.