You might not think about hiring a local mover if you are only moving across town in Arlington, Carrollton, Dallas, Fort Worth, Plano, or the surrounding areas, but it can really make things easier with all of the other things that you need to take care of with a move. The team from Estate Property Movers helps families all over the area make these local moves, so they are experienced in helping to get them done efficiently. Plus, you can count on them to be there on time with the right equipment. Why not call in the experts from Estate Property Movers and have your friends come to hang out with you after the move. Make things easy on yourself and hire professionals to be your local mover.
Why Hire a Local Mover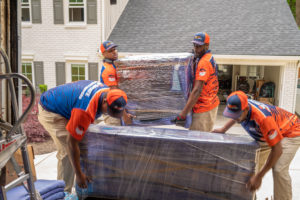 Often when you mention to people that you are going to hire a local mover to help you move to your new home, you will hear how all you need are a few friends with a couple of trucks and they'll make quick work of moving your home. And this sounds somewhat reasonable on the surface, but there are unsaid important aspects to keep in mind. The professionals from Estate Property Movers do this for a living, so timeliness is important. You as the homeowner want to know when to expect people to show up. Your friends might not be as punctual, and that makes your move suffer from being longer than it needs to be.
Local movers also have the right equipment with them, such as moving blankets, hand carts, and other needed items. This also helps to keep things rolling along as people aren't waiting on others to finish up using the hard cart, etc. Hiring the pros from Estate Property Movers not only means that you don't have to do any of the heavy lifting, but it also means that they will know all of the shortcuts to get from your old location to your new location.
Knowing Who You Are Working With
Having more than 15 years of experience in the industry means that Estate Property Movers is doing many things right when it comes to their customers. Don't just settle for any moving company, choose one that will treat the property in your Arlington, Carrollton, Dallas, Fort Worth, Plano, and surrounding area home like their own. Call them today to learn more and have them provide you with an estimate.