Understanding Moving Paperwork
If you have recently hired us or another moving company to help up with your moving services, then you may be wondering, why so much paperwork?
Moving is a hassle on its own, so why should you have to worry about moving paperwork when hiring professional movers? Believe it or not, the purpose of this paperwork is to keep the moving company and you protected.
What are Binding Estimates and Non-Binding Estimates?
In an Order for Service, paperwork will include either binding estimates or non-binding estimates–but what's the difference?
Binding Estimates– If you are moving under a binding estimate, your Order for Service will indicate the terms of payment and the amount to pay. It will also include both the signature of the mover and the moving company.
Non-Binding Estimates– If you are moving under a non-binding estimate, your Order for Service will need to include a written change to paperwork in the event that moving agreements change. These changes may include the date of pick-up, delivery, shipment, or any other change to the non-binding estimate that you have previously agreed to.
Understanding Bill of Lading & Order for Service Documents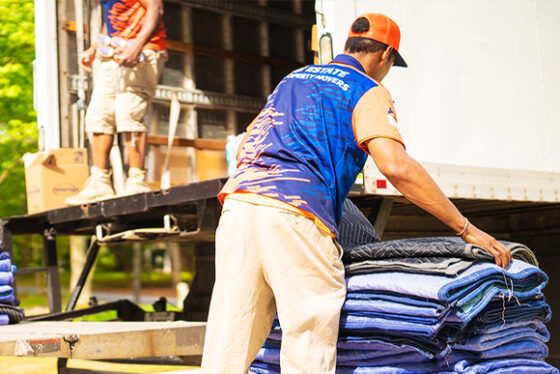 When hiring a moving company you will be presented with two important documents, including Bill of Lading and Order for Service.
Bill Of Lading: A Bill of Lading is an important moving document that acts as a contract between customers and movers for shipment and transportation. This document is required by law and states that the moving company will provide the requested services and the mover will pay for the charge of those services. It also includes the specifics of the time of the move, terms and conditions, and the maximum amount of payment required at the time of delivery (for items on the non-binding estimate).
Order for Service: An Order for Service document is attached to your Bill of Lading. This document shows written proof of the requested services that are to be performed with the shipment, such as dates of pick-up, delivery, liability, special directions, and the client's contact information. The Order for Service document will also indicate if the agreement is a binding or non-binding estimate
At Estate Property Movers we are the preferred moving company for Georgia, Texas, Florida, and throughout the USA. Specializing in commercial and residential moving, we have over two decades of experience in the moving game, giving us the knowledge, experience, and tools needed to ensure successful and hassle-free moving services. Do you have more questions about moving paperwork? Contact us today to chat with our team and get your questions answered!