Are you thinking of moving from one office to another? Due to a change in infrastructure or simply due to more convenience of the business owner, you might want to relocate to a new office space. But this can also get a little bit cumbersome because you have to move a lot of things. Every office consists of certain heavy-duty equipment and machines without which the business cannot function. And if you have to move these, you will require professional help. That is why you have to hire an office mover for this. We, at Estate Property Movers, can be the right solution for you. We are an established and reliable company which has been in this business for more than 15 years now. We can provide you with all kinds of residential and commercial moving services, including local and long-distance moving services as well as white glove moving services. We are known for our sense of professionalism, efficiency, and dedication to all our clients. So, if you are based in areas like Atlanta, Fulton County, Sandy Springs, Marietta, Buckhead, or Brookhaven, then you can opt for us.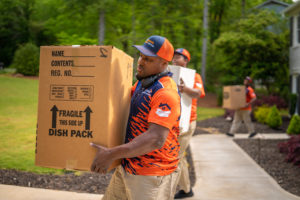 Here, we have put together a few things to know about an office mover before hiring. Take a look.
Often, when you build a new office, it can take a little time to get ready. There can be a few delays here and there that cannot be calculated beforehand. Until your new office is completely ready, there could be certain equipment and machines which cannot be shifted. You have to know that whether the mover you are hiring can provide you with certain kinds of storage facilities where you can keep these office machines until the new place is ready.
You obviously have to know about the amount the company will charge for such moving services. In this way, you will be able to decide if the company you are choosing is affordable or not. If needed, you should take notes in advance and compare these with others to choose wisely.
So, after knowing these things, if you are thinking of hiring us, contact us today.