Local Movers, Long-Distance Movers, and Storage Moving in Georgetown, Texas
When you need cheap movers in Georgetown, Texas, you can't trust just anyone for the job. At Estate Property Mover, LLC we are the most reputable and trustworthy moving company in the area. Equipped with a team of experienced interstate movers, local movers, and storage moving experts, we have the skills and manpower needed to ensure a smooth and stress-free move. Priding ourselves on providing white-glove moving services, we handle all the aspects of your Georgetown, TX move, from organizing to packing, planning, and more! Hire our cheap movers today and see what we can do for you!
Local Movers in Georgetown, TX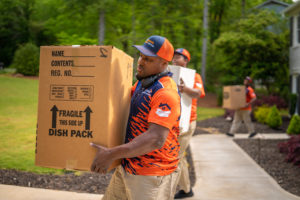 If you are getting ready for a big move then you know just how overwhelming the moving process can be–let our local movers take the burden off your hands. Not sure what the benefits of hiring a moving company can be? Check out these reasons why hiring movers is the best choice for your Georgetown, TX move:
Organization – Our movers assist with the organization and planning of your move. As experienced movers, we understand the steps that need to be taken to ensure a seamless move.
Manpower – Not only do we have all the necessary packing tools and supplies needed to make your move hassle-free, but we do the heavy lifting for you.
Packaging – We take care of all the packing and unpacking of your move. Whether you have hired our local movers or interstate movers, we pack everything safely and load it into our trucks.
Long-Distance Movers & Interstate Movers in Georgetown
Our interstate movers are here to help with your cross-country relocation. Whether you're moving to or from Georgetown, TX, our team of long-distance movers take care of the details for you, offering white-glove full moving services to improve the efficiency of your residential/commercial move. Get in touch with us today to connect with our team of long-distance movers in Georgetown, TX!
Storage Moving in Georgetown, Texas
Seated in Williamson County, Georgetown, Texas is one of the fastest-growing cities in the nation! Offering a mixed suburban and rural feel, Georgetown, TX has been called one of the best places to live in the state. Georgetown, TX also is packed full of parks, excellent schools, and plenty of attractive real estate options that families, retirees, and young professionals can appreciate.
Are you searching for cheap movers to assist with storage moving in Georgetown, TX? At Estate Property Movers, LLC we've got your back. As an affordable Texas moving company with nearly two decades of experience offering local movers and long-distance movers to Georgetown, TX, we have the manpower, skills, and tools needed to ensure efficient storage moving. Whether you are moving your belongings in or out of storage, or require long-term or short-term storage for your possessions, we are here to meet your every need and exceed your expectations. Get in touch with us today to learn more about our storage moving services in Georgetown!